How to Read Your Electricity Bill
We want to make sure your electricity bill is clear and makes sense to you. Since there's more to your bill than the amount due, we've created a sample bill that explains the different items that could appear on your residential bill. 
Your regular monthly statement is printed on blue or green paper is is a full calculation of activity on your account up to and including the "printed on date" (section 1).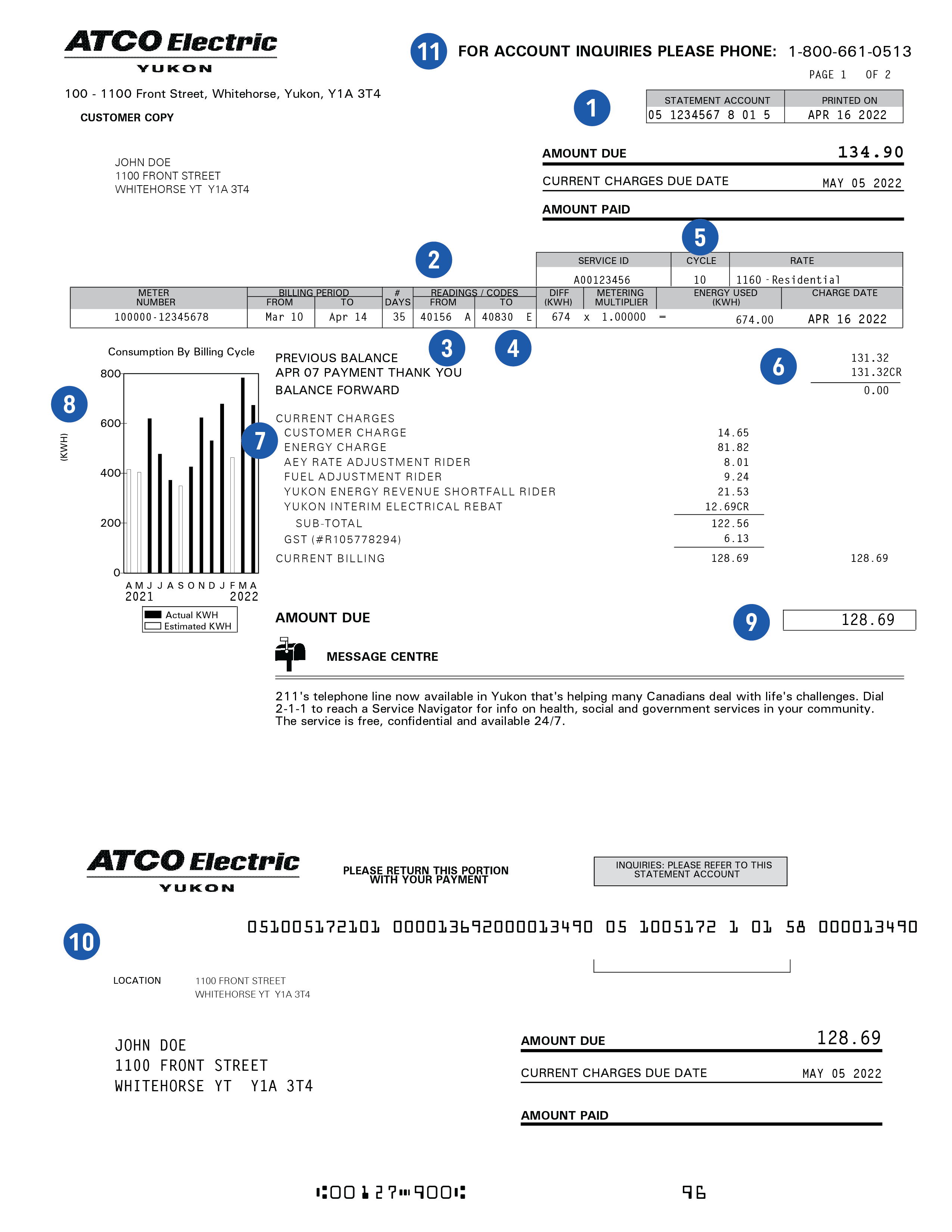 Bill Breakdown
1. Bill at a Glance: This section shows you at a glance your 13-digit account number, bill payment due date and total amount due for payment.

2. Readings/codes:  Reflects the meter readings or codes used to calculate how much energy was used during the billing period.

3. Meter Reading Code - "A": indicates the actual meter reading.

4. Meter Reading Code – "E": indicates an estimated meter reading. 

Other Reading Codes Include: 

A: Actual Meter Reading
B: Customer Meter Reading
E: Estimated Meter Reading
F: Manual Estimate
G: Prorated From an Actual Reading

 

5. Cycle Number: This will tell you which billing cycle you're on and will determine the dates that are used to read your meter and complete your billing for each month. There are 20 billing cycles in each month. 

6. Balances Calculation: Shows previous statement balance and reflects any payments or adjustments made since the previous statement was issued. 

 

7. Current Charges: This shows all the various charges that make up your energy bill.


Customer Charge - A fixed charge to residential customers to cover a portion of the costs of electric facilities such as power lines, generating plants, substations and metering (whether or not you use any electricity).
Energy Charge - This is the basic per kilowatt hour cost of the electricity used during the period covered by this bill.
AEY (ATCO Electric Yukon) Rate Adjustment Rider – This includes cost adjustments since the basic per kilowatt hour approved price from 2011. The details included in the calculation may be a surcharge, a refund or an interim rate adjustment as approved by the Yukon Utilities Board.
Fuel Adjustment Rider - This adjustment represents the difference between the actual costs of the fuel used to generate electricity compared to the forecast costs. It may appear as a charge or a refund as approved by the Yukon Utilities Board.
Yukon Energy Revenue Shortfall Rider – This includes cost adjustments since the basic per kilowatt hour approved price from 2011 for Yukon Energy. The details included in the calculation may be a surcharge, a refund or an interim rate adjustment as approved by the Yukon Utilities Board.
Yukon Interim Electrical Rebate - This Yukon Territorial Government program provides a credit on up to the first 1000 kwh of electricity used at residential sites each month to reduce your overall bill.
Yukon Government Inflation Rebate: The temporary Inflation Relief Rebate was first announced in March 2022, and applies to all non-government residential and commercial customer rate classes. All eligible customers will automatically receive $50 per month, for three months, regardless of electricity usage. The Yukon Government announced an extension of this program in September 2022, providing an additional $50 rebate for three months, on all residential and commercial electricity customers from October to December 2022. **Please note that we discovered the $50 rebate was not applied to the November billing statement for customers in cycles 6-10. We apologize for this error and will apply two $50 rebates for those customers on their December statement. 
GST – Government of Canada Goods and Services Tax. 

 

8. Consumption Chart: Overview of the energy consumed for the past 12 months. Solid bars in the graph reflect when an acutal meter read was collected and outlined bars reflect an estimated meter read. 


9. Total Amount Due: This is the balance outstanding on your account from your last bill plus new charges.

10. Payment Return Slip: This slip gives your account number, bill due date and total amount due. If you receive a paper bill and either mail your payment or pay in person at your financial institution, include the return slip. For more information on how you can pay your bill, visit ways to pay your bill.

11. Contact Information: We're here to help if you have questions about your bill. Call us at 867-633-7000 or visit www.atcoelectricyukon.com 

 
Why is my electricity bill so high?
If your electricity bill is higher than expected, there may be a few reasons why this is. Here are a few examples of what can impact your bill, but if you have any further questions, give us a call at 867-633-7000. 

Temperatures
Colder and warmer temperatures can mean higher bills since it takes more electricity to heat or cool your home or building. That's why you may see higher bills in April and September - these months typically follow periods of peak winter and summer temperature
Additional appliances
Increased electricity use can also happen if you've added portable heaters, air conditioners or other appliances like TVs to your home or business.
Poor insulation
Older homes or buildings are usually less able to keep the heat in. Poor insulation in basements and crawl spaces, or improper window and door seals, can make it costly to heat. Find out about more energy saving tips!
Guests
Guests staying over or more people living in your home can lead to the increased use of electricity since more people equals more hot water to take showers or do laundry.
Rate changes
Some customers may also experience rate changes as we gradually return customers to single, flat rates. See how the return to a flat rate may affect your annual residential electricity costs.
We're here to help
Did you know we work with our customers to help solve high bill problems year-round, not just in the winter months? If your bill is higher than expected, we'll work with you to find a solution that may include payment arrangements. For example, we offer an Budget Payment Plan if you want to pay a fixed monthly payment and avoid those seasonal highs and lows.
Call to speak to one our Customer Service Advisors at 867-633-7000.  Our hours of operation are:
Monday to Friday from 9 a.m. - 4 p.m.