Responsible energy solutions
Canada's energy industry is changing. And so is the way we're doing business. That's why we're investing in initiatives and projects that help us understand and change how we approach emissions, our carbon footprint, and overall energy sustainability.
Displacing Diesel
We are committed to working together with Federal, Indigenous and local governments, communities and residents to find and implement reliable and affordable clean energy solutions that will lower greenhouse gas emissions, displace diesel power generation and incent economic development, all the while ensuring that safe and reliable power is available to customers when and where they need it.
Working directly with First Nation, Territorial and Federal Governments and individual communities, we aim to build renewable energy sources to displace power generation, lower emissions and create local jobs and training opportunities.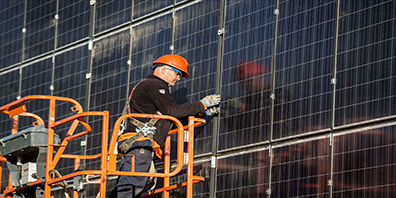 Micro-Generation
The Yukon Government's Micro-generation program allows Yukoners to offset their electrical consumption by connecting renewable energy technologies to their homes or businesses while remaining connected to the Yukon's electrical grid. ATCO Electric Yukon and Yukon Energy residential, general service (business) and industrial customers are eligible.
To find out more or to enroll, visit the Yukon Government's Micro-generation program website or contact the Energy Solutions Centre at 867-393-7063 or energy@gov.yk.ca.